16 Nov 2020
Extending The VeloBlade Range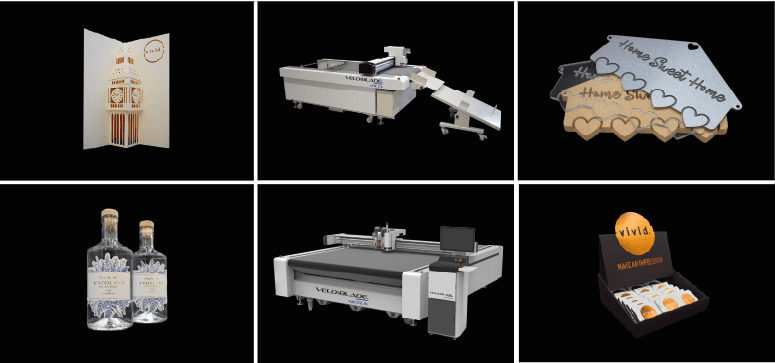 Extending The VeloBlade Range
Due to the incredible success of the VeloBlade range, we have taken the decision to expand our digital die cutting offering by introducing two new ranges, VeloBlade Volta and VeloBlade Nexus. VeloBlade Volta gives users the ability to cut anything from kiss cut labels up to 10mm thickness. Whereas VeloBlade Nexus is a range of wide format digital die cutters comprising an optional CNC Router for cuts up to 25mm.
Richard Marlow, Sales Director at Vivid told us, "throughout the pandemic we've seen many of our customers seeking ways to diversify and offer services they've previously had to outsource. Consistently, one of the biggest outsourcing costs we've seen is die cutting. By extending the VeloBlade range we're now able to provide businesses a variety of systems with different capabilities. From kiss cutting right through to 25mm, there is a system to suit every application".
Introduction to VeloBlade Volta
Available in two sizes, 600mm x 400mm and 600mm x 900mm, the Volta range comprises 4 systems; VeloBlade Volta 64, VeloBlade Volta 69, VeloBlade Volta 64+ and VeloBlade Volta 69+. The key difference in these systems being the + range has a cut depth of up to 10mm with optional oscillating tool whereas the standard Volta 64 and 69 cut up to 2mm.
All of these systems give you the ability to completely automate your production. With 150mm of auto-feed sheet capacity as well as roll fed functionality, the Volta systems are designed to give you the best possible finishes, efficiently and cost-effectively. The fully automated workflow provides exactly that, with its barcode reader meaning Volta will even support multiple jobs at once, freeing operators up to work on other projects.
With a selection of tools that enable users to create unique and intricate products, without the expensive costs of traditional dies, VeloBlade Volta gives businesses the freedom to create by enabling them to work with stocks such as; label, paper, card, KT board, foamex and much more!
More About VeloBlade Nexus – Wide Format Digital Die Cutting
Wide format print finishing has increased in demand during the pandemic, and what better way to compliment this than with wide format digital die cutting. Starting from 1800mm x 1600mm and comprising numerous larger systems, VeloBlade Nexus opens doors of opportunity within the wide format industry.
Compared with the rest of the VeloBalde range, VeloBlade Nexus provides its users with the opportunity to work with the widest variety of stocks, thanks to its CNC Router being able to cut up to 25mm. These substrates include; Dibond, MDF, fabrics, acrylic and much more. Also, you can still produce everything you would with the Volta range, the cut is that intricate and accurate!
Another fantastic feature the Nexus boasts is its automatic cut depth setting. This drastically increases setup and operating speed, making the operator's job easier and more efficient. Efficiency was one of the key considerations when this system was put together, also contributing to an efficient workplace is the rotating bed that enables roll and sheetfed production.
Bringing Digital Die-Cutting In-House to Protect and Diversify Your Business
Less outsourcing and bringing die cutting in-house not only reduces costs, but it gives you complete control of your customers work from start to finish and enables you to venture into new markets. The VeloBlade range gives you the tools to do exactly that and there's sure to be a system that suits your needs. Get in touch for a free sample pack and to arrange a demonstration.