25 May 2021
Celebrating Over 100 VeloBlade Installations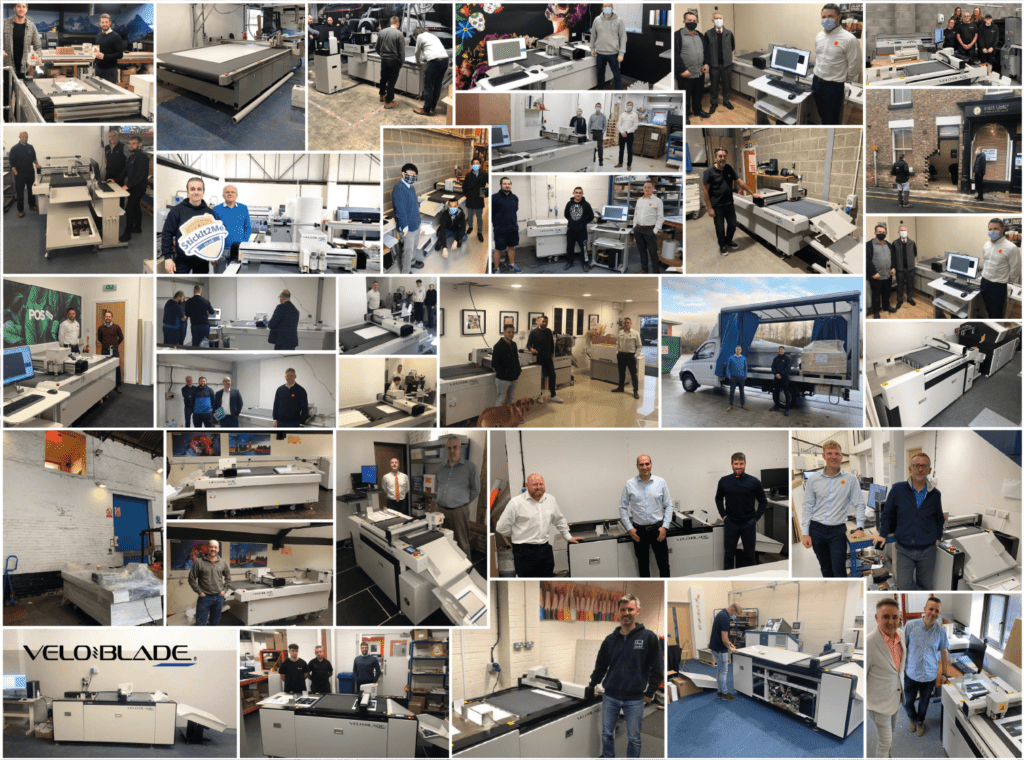 The Evolution of the VeloBlade Range
It was back in September 2019, at The Print Show, where we first launched the VeloBlade digital cutting brand. Fast-forward to May 2021, our systems have evolved greatly, and we are incredibly proud to say that 100 businesses are now finishing their print with a VeloBlade from Vivid!
Since then, we've seen the introduction of the VeloBlade Volta and VeloBlade Nexus. It became apparent that a need to work with a wider variety of substrates and cut to greater depths was what would drive the flatbed cutting industry forward and see more printers see it as a viable investment. Here's what a few of our partners have had to say about their VeloBlade Volta.
Lynn Brazier @ One Digital told us; "we looked at one other machine with a similar spec but the VeloBlade Volta 69+ was more robust with capacity for a larger sheet and capable of cutting thicker substrate. We found the process of enquiry to purchase very easy and were supplied full information along with a demo of the exact machine within a fully working environment".
Thomas Willday @ Alfred Willday & Son Ltd and Willsow Ltd says, "we're chuffed that we have invested in the VeloBlade Volta 69+. This is the fourth system we've purchased from Vivid spanning our 12-year relationship and I am very much looking forward to running a diverse number of substrates on this system and creating innovative products that will bring a new revenue stream to the business. This system will reduce make-ready costs to near nil, plus massively reducing production time for work that needs cutting and creasing".
Responding To Customer Needs for Further Product Development
The evolution of the VeloBlade didn't stop there. We introduced the Volta range by initially launching four systems; the 64 and 64+ which gives users the ability to work with B3 sheets and cut either up to 2mm or 10mm thickness and the 69 and 69+ offering the same cutting depths but sheet sizes up to B2. However, after discussions with a few customers, it became clear that we needed to bridge the gap between wider format systems and the B2 system, that's where the new 1070+ came in. Now businesses have the option of working with B1 sheets!
One of the people and businesses we were inspired by was Scott Maxted @ Adco Products Ltd and here's what he had to say; "Having spent a day with the Vivid team at their HQ where we initially went to see a 64+, we quickly realised the additional benefits of a B1 size machine to service and cater for the flexibility of product we produce and required. The Vivid team listened, innovated and offered a solution in super quick time!".
Diversifying Businesses See Success
It's been a turbulent and uncertain time for many over the past year, however, it's been apparent that those who have embraced that chaos and looked at ways for their businesses to thrive have been somewhat successful. For example, we spoke to Jason Carpenter at Spiral Colour who told us, "Since we installed the VeloBlade Nexus, we've been flat-out, running the system 7 hours a day 6 days a week to keep up with demand. The VeloBlade Volta and Nexus have enabled us to do jobs we never thought we'd be able to do and win clients we never thought we'd get!".
A Massive Thank You for Your Continued Support
As far as we're concerned, this is just the beginning for the VeloBlade as we continue to work on some exciting ideas to take our systems to the next level, to bring you, our customers, even more applications from a single system. From the team here at Vivid, a massive thanks for your continued support and collaboration, we're incredibly proud to have reached this milestone and greatly determined to continue to offer you systems that make your lives easier and businesses better!