07 Oct 2020
Introducing Anti-Bacterial Pouches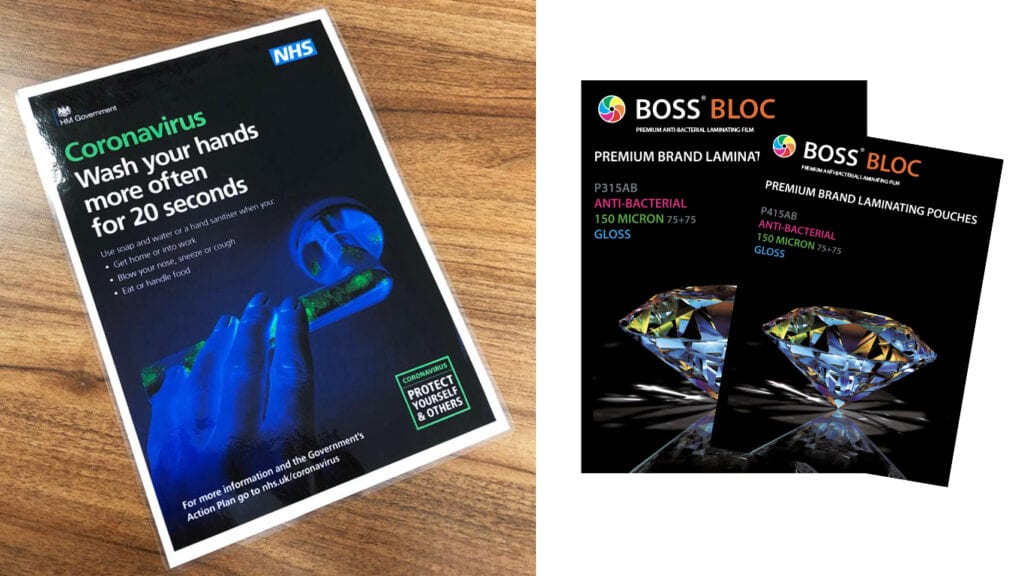 Recently, we launched our new anti-bacterial laminating film range, Boss Bloc. This included matt and gloss options in OPP and a gloss pressure-sensitive wide-format option. Due to the continued success of the range and increasing demand for such products, we have taken the decision to add to the range with A4 and A3 gloss anti-bacterial pouches.
Eliminating upwards of 99% of bacteria, Boss Bloc pouches are developed to provide protection for print and people. You'll experience the premium finish of Boss laminates that you're used to, with the added benefit of anti-bacterial properties. When discussing OPP Boss Bloc, Operation Manager at WeLove2Print.com, Kunal Pabari said, "it was vitally important for our customers to try and keep their experience as normal as possible. There has been no impact on quality, Boss Bloc looks great and works exactly like a standard laminating film but with the huge added value and benefit of it being anti-bacterial and eliminating 99% of bacteria".
As well as providing anti-bacterial protection, Boss Bloc pouches will be a fantastic cost-saving investment. Due to the ongoing pandemic, items such as menus have now become single-use, throw away products, Boss Bloc negates this as the anti-bacterial effect is made to last the lifetime of the product it is placed on. When discussing looking for alternative options to these problems, Kunal said, "Thorough cleaning after every use wasn't an option and neither was single-use items as it became too expensive. So, we set out to find an alternative and Vivid provided us with exactly that. Our clients have been very happy".
Richard Marlow, Sales Director at Vivid said, "Single-use and wastage is incredibly high at the minute and it doesn't need to be. Boss Bloc pouches are an ideal solution for sectors such as retail, hospitality, leisure, healthcare, catering, education and many more. We want to be working with printers, enabling them to offer these alternative solutions to their customers. Working together we can all help protect people and greatly reduce wastage".